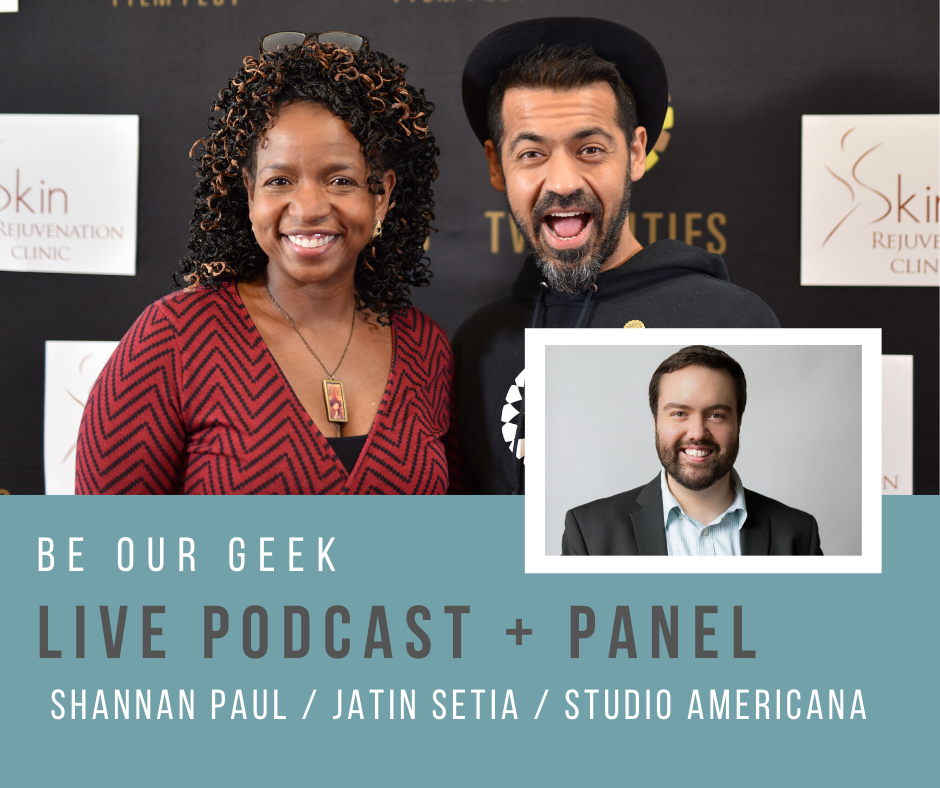 Thinking about starting a podcast? Want to see what it takes to record an episode and start a show? Have questions for a producer? We are joining forces with "Be Our Geek" Podcast and Studio Americana to answer all of your questions!
Join us for an on-site recording of the "Be Our Geek" podcast hosted by Miss Shannan Paul, from MyTalk 107.1, and Jatin Setia, Executive Director of the Twin Cities Film Fest. They'll be joined by guest Geek, Judy Carter for a discussion of Marketing to Geeks in Movies and TV. You can be a part of the show and then join in a round table discussion on what makes a podcast work and how to potentially start your own. Studio Americana will be joining in on the conversation to provide professional insight into all podcast producing questions. It's sure to be a fun night of laughs, conversation on connecting to your audience, and great information.
Schedule:
6:30-7pm Doors Open / Check In
7:15-8pm - Live Podcast w/ "Be Our Geek"
8-8:45pm - Panel / Q&A
Shannan Paul, a self-labeled geek, brings roaring laughter to even the most curmudgeonly of crowds. You might recognize her from Fox9's The Jason Show or her voice from MyTalk107.1. She is also a stand-up comedian and podcast host for two shows! Her diverse professional background has given her an incredibly broad communication set and allowed her to work with people and groups covering a spectrum of ethnicities, age ranges, and education levels.
Ian Levitt spent spent 20 years in broadcasting prior to starting Studio Americana, a recording studio focused on podcast and audiobook production. As a husband and father, he has a deep appreciation for the value of time. Allowing his clients to save time on the technical aspects of podcasting is a major goal of Studio Americana. When not working, Ian enjoys spending his time with his wife, Lisa, and daughter, Serena.