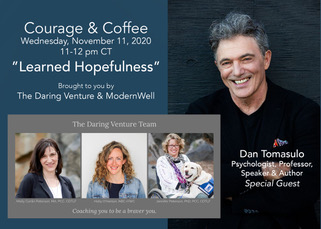 Courage & Coffee Series: Get your dose of courage in community with other leaders the second Wednesday of each month from 11-12 pm CT. Bring yourself, bring a friend or your team, and don't forget your coffee.
Courage & Coffee: Learned Hopefulness – Guest Dan Tomasulo, Psychologist, Professor, Speaker & Author
Wednesday, November 11th, 11-12 pm CT Via Zoom:
"Hope is unique. It is the exception among positive emotions because it requires negativity or uncertainty to be activated. Due to COVID-19, more people have these two raw feelings than at any point in history." - Dan Tomasulo
Has 2020 got you down? You aren't alone. Many of us struggle with feelings of sadness and hopelessness. The good news is that we can change. Join us for lively discussion with Dan Tomasulo, Positive Psychologist and the author of Learned Hopefulness.
Dan will share his research about the power of hope and how we can use it to help identify our strengths; ditch the self-limiting beliefs that diminish our capacity for positivity; and increase feelings of motivation, resiliency, and wellness. With hope as our guide, we'll find that we can break free from hopelessness and start living a life of happiness and vitality.
Outcomes:
Learn about the research of "Hope" and how Dan has applied this concept to build resiliency and happiness.

Understand how our mindset around "Hope" can influence the process and outcomes of our daily lives.

Build confidence by identifying a place in your life where you can practice "Hope."
The Daring Venture
Developing courageous and effective leaders and teams from the inside out.
Community: Since 2014, we have created a community of daring leaders. We believe courage is contagious and are on a mission to spread it. We love helping leader's breakthrough their own barriers of self-limiting beliefs so that they can move forward believing in their strengths, abilities, and passions. In doing so they will show up big and bold.
Expertise: We are a team of highly experienced coaches and together they have over 45 years' experience in executive coaching, facilitation, leadership in for profit, non-profit and academic settings. As Certified Dare to Lead™ Facilitators/Trained, we partner with leaders and teams to develop courageous practices and behavioral shifts that impact day to day development of human potential, teams and culture.
Approach: We use evidence based human development research and practices including: Dr. Brené Brown, emotional intelligence, positive psychology, wellness, neuroscience, mindfulness & meditation, career transition and purpose. We are "living this work" and are committed to the power of vulnerability, courage, and wholehearted leading and living.
Molly Conlin Peterson, M.A., Co-Founder
Molly is a Certified Dare to Lead™ Facilitator, PCC level ICF certified coach with over 23 years of experience in executive/career coaching, leadership development and facilitation. She is passionate about helping people work and lead with courage, purpose, and heart.
Jennifer Peterson, PhD, Co-Founder
Jennifer is a Certified Dare to Lead™ Facilitator, PCC level ICF certified coach and has been coaching individuals and executives since 2006. Jenny's mission is to help leaders live into their biggest, boldest selves and cultivate Joy along the way.
Holly O'Hanlon, NBC-HWC. Facilitator/Executive Coach
Holly is a Board-Certified Health & Wellness Coach and has a Graduate Certificate in Executive Coaching. Her passion is helping people take leadership of their work, wellness, and lives through self-reflection and courageous action. Dare to Lead™ trained.
TheDaringVenture.com