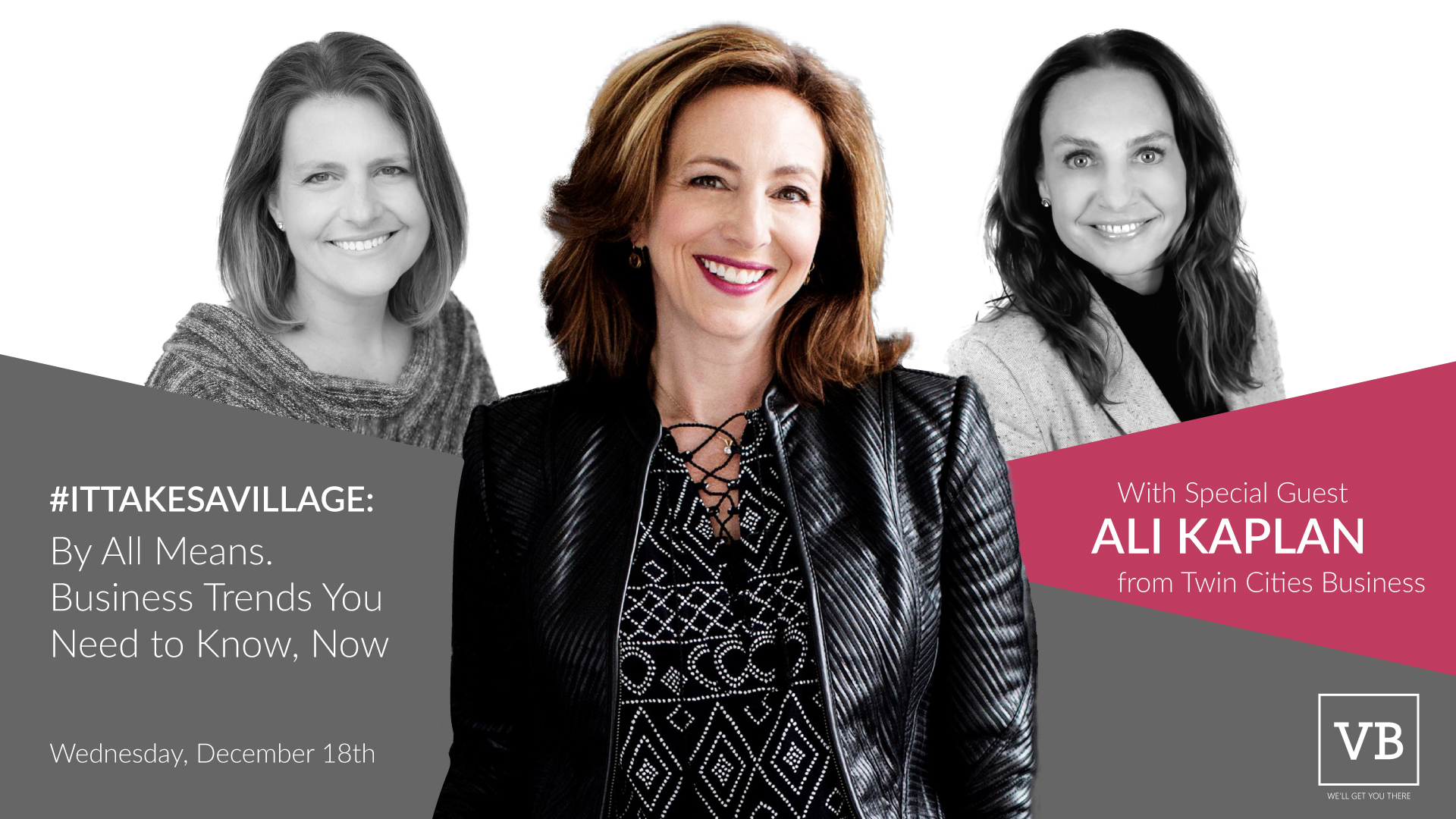 Leadership. Innovation. Purpose. By all means you need these things on your entrepreneurial journey.
You also need a village. A village of support that believes in your entrepreneurial talents. You need a village that can share the business trends you need to know for a successful journey. We're that village.
Join Village Bank and Erin Newkirk at ModernWell December 18 for #ItTakesAVillage: By All Means. Business Trends You Need to Know, Now with guest speaker Ali Kaplan, Editor In Chief at Twin Cities Business Magazine. Ali will talk business trends that, by all means, you need to know by taking you through her entrepreneurial journey.
About the speakers:
Aleesha Webb – Village Bank President & Vice Chairwoman of the Board At her core, Aleesha Webb is a village builder, continually striving to create life-long connections with her clients, customers and community. She adds true value to relationships by determining the right solutions for individual needs, watching out for their best interests, and offering authentic, high-touch customer service. Aleesha's banking career spans over 25 years and began on the front lines of Village Bank. With plans to introduce new digital services and increase Village Bank's community presence and banking locations, Aleesha is on pace to change the future of community banking in Minnesota. While other community banks are being purchased by national banks, Aleesha is recommitting to Village Bank's mission of serving its communities, and focusing on economic stability. The deeply-rooted difference that makes Village Bank matter to all customers is the genuine community bank approach that comes from being family-owned and operated. Aleesha treasures her time with family, friends and her fellow Villagers! #ItTakesaVillage
Ali Kaplan-Editor in Chief at Twin Cities Business Allison (Ali) Kaplan is editor-in-chief of Twin Cities Business magazine, leading content development for print, digital, and events. She hosts a new TCB podcast about leadership, innovation and entrepreneurship called By All Means. Previously, she served as senior editor of shopping and style for Mpls.St.Paul Magazine, where she wrote an award-winning retail column that bridged the space between business and lifestyle. An authority on retail, trend and consumer experience, she created her Ali Shops brand and blog in the dark ages before Instagram. Ali's writing has appeared in numerous publications including Lucky, ShopEtc. and Delta Sky Magazine. She appears regularly as an on-air expert for television and radio. She also hosts the weekly radio show Shop Girls on myTalk107.1. Ali started her journalism career as a newspaper reporter and columnist. She is a graduate of the University of Wisconsin-Madison School of Journalism and Mass Communication and now serves on the school's Board of Visitors.