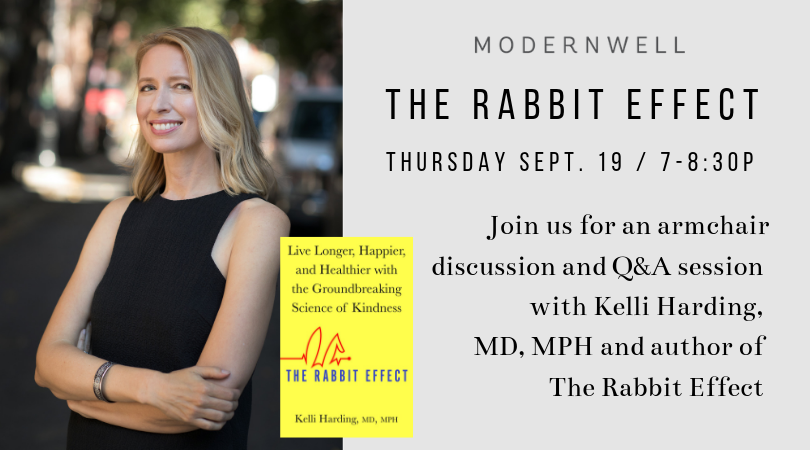 Join us as Kelli Harding, MD MPH and author joins us and Dr. Helen Kim for an armchair discussion and Q&A session around her new book, The Rabbit Effect: Live Longer, Happier and Healthier with the Groundbreaking Science of Kindness.

*About the Book: * https://www.simonandschuster.com/books/The-Rabbit-Effect/Kelli-Harding/9781501184260

Dr. Kelli Harding is an assistant professor of psychiatry at Columbia University Medical Center. She is a diplomat of the American Board of Psychiatry and Neurology, as well as boarded in the specialty of psychosomatic (mind-body) medicine. Kelli works in the emergency room at New York Presbyterian Hospital, and has appeared on *Today*, *Good Morning America*, NPR, *The New York Times*, *Medscape*, WFUV's Cityscape, and US.
Dr. Helen Kim is the co-founder and director of the Hennepin Healthcare Mother-Baby Program and Redleaf Center for Family Healing and Assistant Professor of Psychiatry at the University of Minnesota. She is a perinatal psychiatrist who is committed to empowering women and providing outstanding mental health care for all, particularly those most impacted by trauma and discrimination.
Following psychiatry training at Massachusetts General Hospital, Dr. Kim has been a leader in advancing new models of integrative, two-generation (parent-child) healing that address roots causes that undermine wellbeing, such as childhood trauma, toxic stress, poverty, and discrimination. Through the Mother-Baby Program and the new Redleaf Center, Dr. Kim hopes to help children thrive and to disrupt the generational cycle of trauma and mental illness by supporting the emotional wellbeing of parents and disrupting policies and practices that perpetuate the Minnesota's shameful maternal and child health disparities. Dr. Kim is a former Bush Medical Fellow and winner of the National Alliance on Mental Illness Exemplary Psychiatrist Award and the Leadership Award from the Women's Health Leadership TRUST.