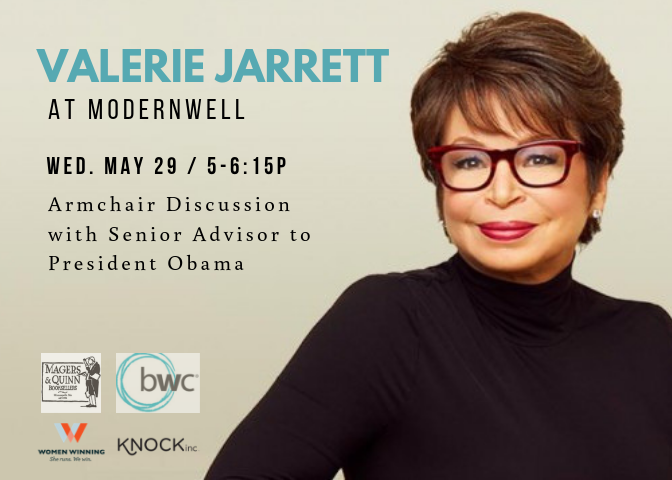 Valerie Jarrett is coming to ModernWell! Join us as Senior Advisor to President Barack Obama leads a reading and armchair discussion of her book Finding My Voice: My Journey to the West Wing and the Path Forward with radio journalist Michele Norris.
Ticket purchase includes copy of Valerie's book Finding My Voice: My Journey to the West Wing and the Path Forward
Sponsored by BWC, Magers and Quinn Booksellers, Knock Inc. and Women Winning
Valerie Jarrett was the longest serving senior adviser to President Barack Obama. She oversaw the Offices of Public Engagement and Intergovernmental Affairs and chaired the White House Council on Women and Girls. Before joining the White House, she served as the chief executive officer of The Habitat Company in Chicago, chairman of the Chicago Transit Board, commissioner of Planning and Development, and deputy chief of staff for Chicago mayor Richard M. Daley. Jarrett has received numerous awards and honorary degrees, including Time's "100 Most Influential People." She received her B.A. from Stanford University in 1978 and her J.D. from the University of Michigan Law School in 1981. She is currently a senior adviser to the Obama Foundation and Attn and a senior distinguished fellow at the University of Chicago Law School.
Michele Norris is an American radio journalist and former host of the National Public Radio (NPR) evening news program All Things Considered, where she was the first African-American female host for National Public Radio.